Founded in 2001, Reliance Nippon is a well-established insurance provider offering life cover, child, retirement plans, employee protection and savings solutions. The company serves both individuals and groups across India.
Reliance Nippon Life serves policyholders through its branches, agents, and eService platform. Members who use the eService enjoy greater control and support just like those who use conventional services. This post will take you through the key steps of creating your account, changing your login details, and signing into your online account for the first time.
HOW TO LOGIN
Signing into your Reliance Nippon Life account is as easy as logging into your email. If you have already signed up, here's the steps to follow so as to access your account.
Step 1– Go to your web browser and type http://www.reliancenipponlife.com
Step 2– Click on customer link under the login tab in the top menu as shown

step 3– Enter your policy number or client ID and password then click signin

FORGOT PASSWORD?
Losing your password doesn't mean the end of using your account. Reliance Nippon Life offers you a password reset option online. Just follow the steps shown to restore your password.
Step 1– Click on forgot password link below the pink sign in button

step 2– Enter your policy number and proposer's date of birth then click submit

As soon as you verify your identity, you can change the password to any that you want.
HOW TO REGISTER
So you have a policy but have no account? You're missing out on many exciting features.  To sign up for the eService, here's what you should do:
Step 1– Go to to https://customer.reliancelife.com/Registration/LoginPage.aspx in your browser
Step 2– Enter the policy number or client ID of your proposer, their date of birth, and security code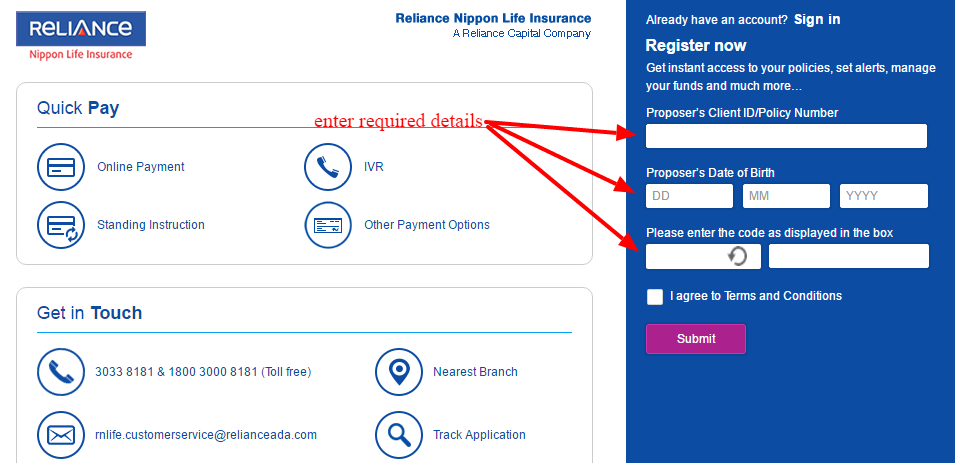 Click on I agree to Terms and Conditions then submit the details.
Your account will be set up almost instantaneously.  Check your email then click on the activation link.
MANAGE MY RELIANCE NIPPON LIFE INSURANCE
You could be asking yourself what you stand to gain by having a Nippon Life Insurance account. The fact of the matter is you get to manage your claims and policies up and close and in real time. That means no more going to the insurance office to ask for bills or check status of claims.
File a claim
Request quote
Update policy details
Pay recurring bills
Talk to customer support