Founded in 2012, Wizzcash has a 3 months repayment policy for any loan amount borrowed. It makes borrowing easily accessible for its UK customers to meet their short-term loan needs, with ease.
Website: https://www.wizzcash.com/
Mobile App: Not Available
Telephone Number: 020 3740 7273
 Founded: 2012 (8 years ago)
 Company's Rating:
Wizzcash is a UK based online lender which offers quick cash solutions to UK residents. The period of repayment for cash borrowed is flexible and manageable for anyone with a consistent monthly income. Our guide below features how you can login to your account, apply for a loan and the benefits that come with having a Wizzcash online account.
HOW TO LOG IN
Wizzcash offers an easy way for members to access their accounts. It is an online lender and thus makes it easy for customers to manage their accounts. The following are the steps which you can follow in doing so:
Step 1: Click the link https://www.wizzcash.com to access the homepage.
Step 2: Go to the Login button as shown and click it.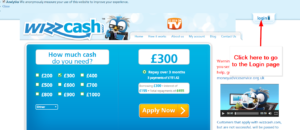 Step 3: Enter your email, mobile phone number, and SMS code. Click Login to access your account.

HOW TO GET YOUR SMS CODE IF FORGOTTEN
For Wizzcash, the SMS code acts as the password. Sometimes you can forget this code and thus unable to access your account. Luckily, it is possible to resend this code and thus successfully login to your account. The steps include:
Step 1: Still on the Login page, you will find a form below the Login button.

Step 2: Fill the fields with your email, mobile phone number, and validation code. Click submit to get your SMS code.
The validation code will always be provided.
HOW TO APPLY FOR A LOAN
Loan application process with Wizzcash is transparent and accessible. It is one way to solve your short term financial needs. Even those who are not members can apply for a short loan. However, they have to follow the steps below:
Step 1: On the home page, select how much cash you need, the period of repayment and click apply now!

Step 2: Fill the form with your personal details, contact and loan details. Click continue to go to the next page.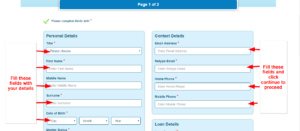 Step 3: If approved, verify your loan and have it deposited into your account.
MANAGE YOUR WIZZCASH ONLINE ACCOUNT
Having a Wizzcash account equips you to apply quickly for short term loans online. You can effectively decide when and how much to borrow money. It allows you to:
Check your loan status online.
Check your monthly loan repayment amount.
Quickly borrow and receive cash on the same day.
VIDEO ABOUT THE COMPANY